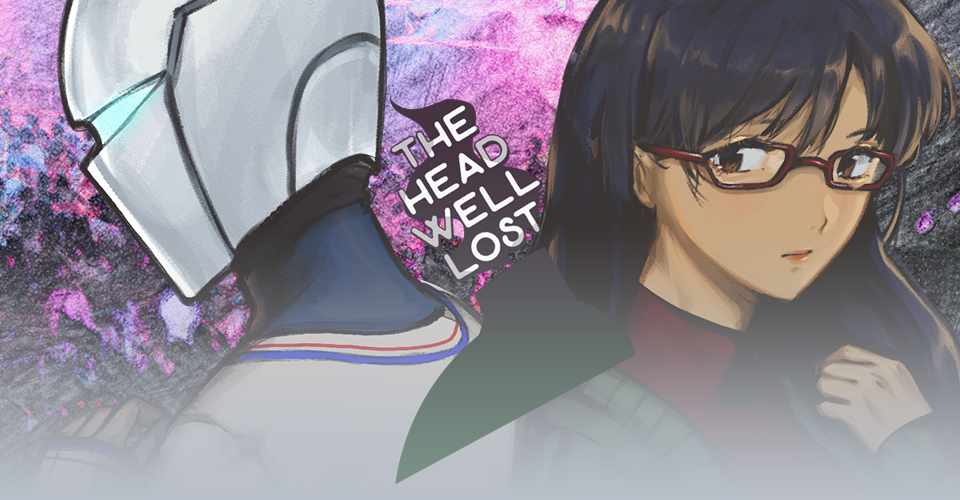 the head well lost
A downloadable game for Windows, macOS, and Linux
When Francis matched with Rai on a dating app, the fact that he's half of the electronic pop duo DRYDEN should have been the most shocking part. Despite the hiccups that naturally occur when a quiet librarian and an internationally famous music producer collide, they hit it off and eventually decide to meet up. The moment Rai takes off the futuristic helmet he's known for always wearing, he reveals to Francis his biggest secret: he is actually a Dullahan, a mythical being who has no head.

While lugging around her own emotional baggage, can Francis make a relationship work with this nice young man who also happens to be a headless pop star?
Support Lore on Ko-fi for exclusive alpha/beta access!
---
Characters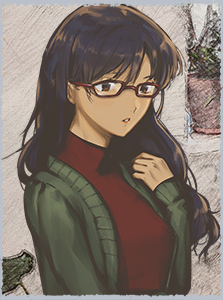 Francis Lin: a 29-year-old librarian, part-time barista, and full-time cat mom. She's gone through some trials which have made her rather cynical and reserved.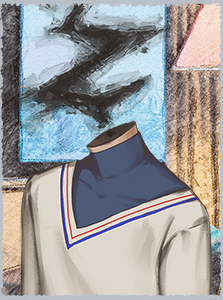 Rai Brennan: already a sought-after producer and pop star at the age of 26. Confident, hard-working, and sweet, this guy is the whole package...minus a head.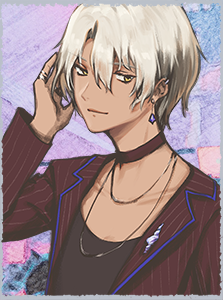 Vergil Onassis: famous and beloved 27-year-old pop singer. Rai's childhood friend, he oozes sensuality and charm, but is also prone to wild swings of emotion.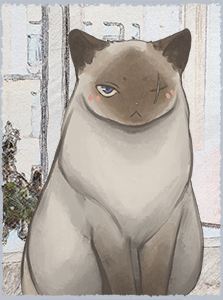 Misty: the oldest of Francis's three cats. A taciturn, a-little-too-intelligent Siamese cat who bosses the other two around.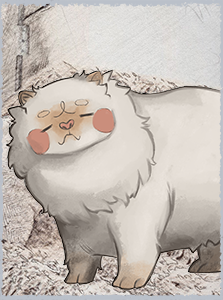 Creme: the cuddly, somewhat easily frightened Himalayan. According to Francis, she is the Sweetest Cat Ever™.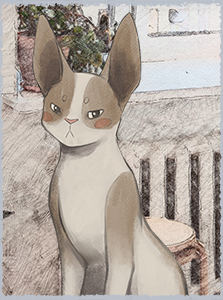 Phaeton: the youngest cat of the trio, what this Cornish Rex lacks in fluff and fur, he makes up for in attitude and side-eying.
---
Features
Over 100,000 words
9 different endings
A heavily electronic, hip-hop soundtrack
3 very cute cats — as you progress, unlock special scenes from the cats' POV
the majority of the most emotionally-charged scenes occur at Waffle House
We are aiming to release the head well lost later in 2021. Please look forward to it! You can track the development progress here. As of May 2021, the art and UI are finished, while the script and coding are at 90% completion.
Please Take Note:
the head well lost is a commercial otome game with one character route which takes place over the course of about a year. Francis and Rai start dating fairly early on in the game. Thus, unlike many other romantic visual novels, the maintenance of the relationship is the main point, not the pursuit.
Due to the nature of Rai's job, he and Francis are not always together. This is especially true for about the first half of the game. As a result, a good chunk of the story occurs through text messages and phone calls.
WARNING: This game contains erotic textual content. These scenes are toggled off by default. Unless you opt-in, these scenes will all be fade-to-black. This game is recommended for ages 18+ mainly for that reason. Also because 15-year-olds may not enjoy or relate to Francis's rants about rent and various other quarter-life-crisis topics.
---
A lovingly crafted, singularly focused otome game from L³. Writing and programming by Lore, character and CG art by Adirosa. The cats were drawn by Ameliori.
A few credits: rpavich, Jess Pac, Shinsuke Ikegame, and Pinnacle_College from Flickr and Nicolas Raymond for photos used for background art. FoolBoyMedia and davidferoli from FreeSound. All the emojis used in the game were designed by Twitter and are free use. None of the aforementioned endorse this project, we just used some of their stuff.
The text messages are a modified version of this system by Nadia Nova.
We've compiled the songs used in-game here. If you use Spotify, you can use this playlist to listen. Please note that a few tracks were edited for pitch/speed/to remove whomp-whomps and thus will sound different there.
| | |
| --- | --- |
| Status | In development |
| Platforms | Windows, macOS, Linux |
| Rating | |
| Authors | L³, adirosa, Lore |
| Genre | Visual Novel, Interactive Fiction |
| Made with | Ren'Py |
| Tags | Fantasy, Magical Realism, Otome, Romance, urban-fantasy |
| Average session | A few hours |
| Languages | English |
| Inputs | Keyboard, Mouse, Touchscreen |
| Accessibility | Color-blind friendly |
Download demo
Comments
Log in with itch.io to leave a comment.
I really LOVE your games! They are very fun!
Hi! Any updates on the game?
Hi there! It's still being worked on, but I work full time as a middle school teacher and it's been really hard this year finding pockets of time to spare.
All of the art for the game is done and I've got about 4 scenes left to write/code before we can do beta testing. I'm fairly confident that the game should release this year, hopefully this summer! I keep the Trello very accurately updated if you ever want to see exactly where the development is at!
Thank you so much for the interest!
Thank you for the update, I really appreciate it! Hoping to buy the game once it comes out :D
I'll have to keep an eye on this one... I really want to see more romance games where the couple is together for most of the game. I feel like too many focus on the excitement of the "chase" and hinges conflict on whether the couple gets together, assuming things will be perfect afterwards.
Still need to try the demo, but I like the premise of the story and characters from the description. I hope the development of the project goes well.
Oh thank you for your comment! Yes, that's something I wish there was more of in romantic games, too, so I decided to write the sort of story I'd like to see more of, haha.
I'm sadly pretty busy with day job stuff so I can't progress on this project as quickly as I'd like, but the full game should be out a bit later this year! :D
Oh my god this demo was amazing! The writing was fabulous and Rai is so cute! Too bad we didn't see Vergil though. Will be looking forward to the release! Keep up the amazing work!
Oh thank you! Yeah, Vergil only showed up a teeeeny bit in the demo but he does play a bigger role later in the story.
I just want to say I loved playing this demo and I can't wait to play the full game!! The characters and story are so intriguing and I completely love Rai!
Aww we're so glad you enjoyed it!! The full game should be out in another 2 months, so you won't be kept waiting long! Thanks for playing. 😊